Know How to Convert Thunderbird Mail to Outlook 2016, 2013, 2010
admin
| email conversion how to software Uncategorized | 4
minutes read
| Modified on: 15-04-2020
Mozilla Thunderbird used to be the most popular and widely used email client. But the launch of more advanced email clients like MS Outlook causes a downfall in its demand. Now the time has changed and many users start switching their Thunderbird account data to MS Outlook 2016. In this blog, we will discuss all the applicable solutions that are the manual steps & Thunderbird to Outlook Converter which provides a solution to how to convert Thunderbird mail to Outlook 2016. To know the complete procedure of Thunderbird to Outlook email conversion, keep reading the blog till the end.
Why Users Prefer MS Outlook?
The email client has a user-friendly and attractive interface. Hence easy to use application.
In MS Outlook, the RSS feed system is perfect.
You can save all personal details like contact, calendar, task, journal, to-do list, appointment, etc.
It has enhanced security features. MS Outlook provides protection against junk and phishing websites.
The popular email client support both IMAP and POP protocols.
In MS Outlook, Management of data is easy.
Method 1: Convert Thunderbird Emails to Outlook via IMAP Setting
The method is divided into two phases. Follow the below-mentioned steps to copy emails from Mozilla Thunderbird to Outlook PST:
Note: To follow the below-mentioned steps, make sure to enable the IMAP setting in your Gmail account and also allow less secure application option enabled.
Phase 1: Connect Thunderbird to Gmail (Export MBOX files to Gmail) Convert Thunderbird to Outlook
Step 1: Start Mozilla Thunderbird in your system.
Step 2: Now go to Tools and hit Thunderbird option.
Step 3: Next hit account setting>> Account action.
Step 4: Choose the add mail account option.
Step 5: Then fill your name, Gmail ID, password, and click on the continue button. (Make sure to select Remember password)
Step 6: Select the IMAP protocol and click on the Done button.
Step 7: Choose your Gmail account from the left panel.
Step 8: Next right click on Gmail account and create a new folder.
Step 9: Rename the folder and hit the create folder button.
Step 10: In the next step, select your Thunderbird account and choose mails that you want to convert to Outlook files.
Step 11: Right-click on selected mails and hit Copy.
Step 12: Select the Gmail account and choose the folder you created earlier.
Step 13: Go to your Gmail account and check the folder.
Phase 2: Configure Gmail into Outlook
Step 1: Now launch MS Outlook in your system.
Step 2: Then click on the File tab
Step 3: Select Account Settings and then again hit Account Settings.
Step 4: In the email tab, click on new.
Step 5: Next Add Account Setup Wizard open. Fill your name, Gmail id, password, retype the password, and hit the next button.
Step 6: After validation, you will get a successful conversion screen. Click On the finish tab.
Step 7: Congratulations! You successfully copy emails from Mozilla Thunderbird in PST.
Method 2: Convert Thunderbird Mails into Outlook via Drag and Drop Method
Step 1: Start Mozilla Thunderbird.
Step 2: Select the email you want to convert in Outlook 2016.
Step 3: Then save the Thunderbird MBOX file as an EML file on your computer.
Step 4: Now repeat steps 2 & 3 to save all emails.
Step 5: Once you have successfully saved all EML files on your PC, start MS Outlook.
Step 6: In MS Outlook and create a new folder.
Step 7: Now select the newly created folder. Then drag the saved email from their default location and drop them in the middle pane of MS Outlook.
The above explained method is quite comfortable and fast but only in the case of single and few Thunderbird emails. The method fails when the quantity of items to be exported increases. To move batch emails from Thunderbird to Outlook 2016, let's jump to the method 3.
Method 3: Professional Solution to Convert Thunderbird Emails into Outlook
Follow the below-mentioned steps to convert Thunderbird emails into Outlook 2016, 2013, 2010, 2007, 2003, and Outlook 2019:
Step 1: Install Thunderbird to Outlook Converter and launch it on your system.
Step 2: Then select File Mode or Folder Mode to add Thunderbird mails in the software.
Step 3: Preview of MBOX files started showing on the screen. Select mails that you want to convert.
Step 4: Select Outlook from "Select Saving Option".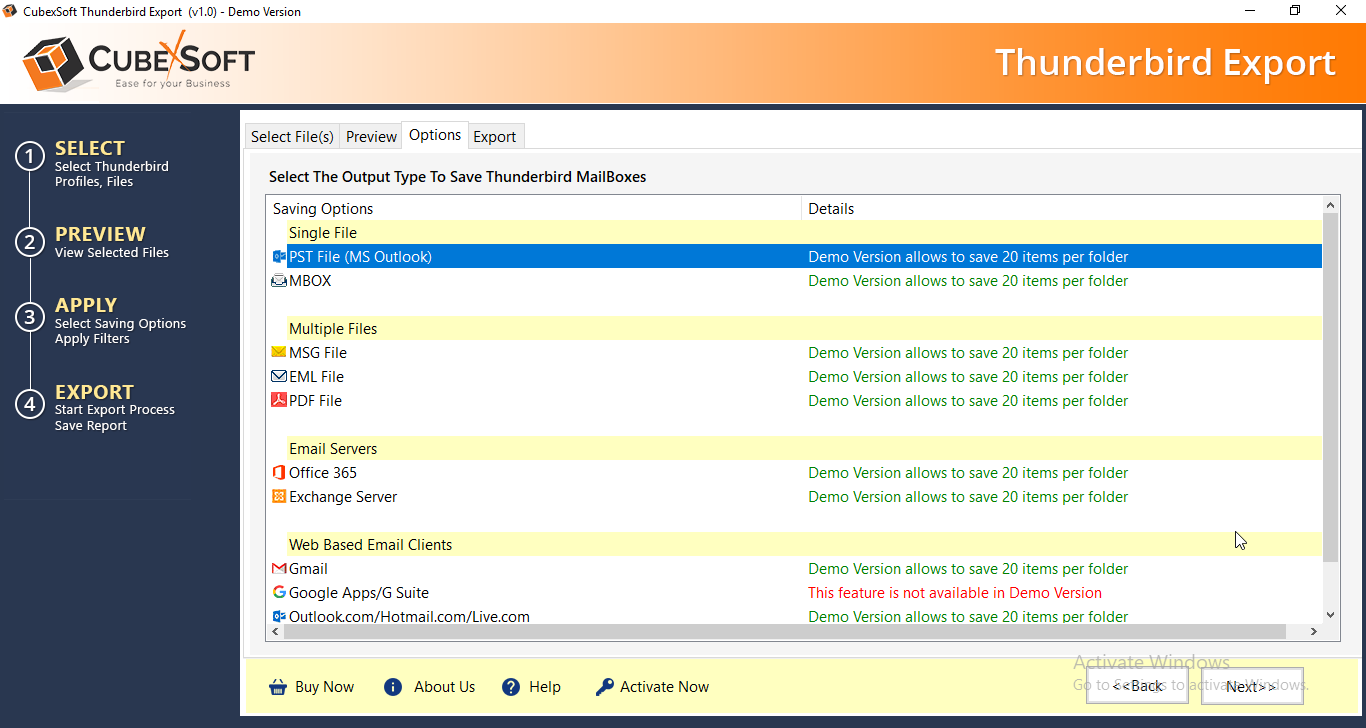 Step 5: Next browse for the destination location, apply advance filters, and the Split PST option. Press the Convert button to start the process to convert Thunderbird to Outlook process.
Step 6: Finally click Ok to end the conversion process.
After following above mentioned steps of Thunderbird to Outlook Converter, all your selected mails will be successfully transferred to Outlook 2016, 2013, 2010 and other Outlook edition. Also you will get backup report in CSV format which contain each and every detail of conversion such as staring time, date, destination location, output option, no of files selected, etc.
Summing Up
In this blog, we explain to you multiple ways of converting the Thunderbird profile into Outlook. You can choose method one through which you can move all files from Thunderbird to Outlook through Gmail and IMAP protocol. However, the method is highly technical and tricky. It is hard to understand for any non-technical background user. The first method is suitable for technical users who have proper knowledge of technicality. You can also use method second if you have a few Thunderbird emails. In the case of bulk Thunderbird email files, method 2 is quite a risky affair.
Among all the methods, the Professional method is the best to opt for. Thunderbird Converter has a simple and non-tricky working structure and can be used by both technical and non-technical users. The professional tool accurately converts Thunderbird emails to Outlook in single time processing along with all email, contact, calendar, task, etc. Read the blog, analyze all the method, and then choose the method which perfectly fits in your requirement.