How to Copy Emails from Mozilla Thunderbird in PDF, PST & Office 365?
admin
| cloud backup email conversion how to software Uncategorized | 7
minutes read
| Modified on: 15-01-2020
Email Clients plays very crucial role in our day to day life. Nowadays there usage of email clients are present in every sector of economy. No matter whether they are big organisation or small, they use various email clients to communicate all around the world. There are various service provider which provide emailing service. In later days email clients feature is limited to emailing service but nowadays users maintain all their database on this online platform.
Thunderbird as we know is a well popular email client developed by Mozilla Foundation. Mozilla Thunderbird is a cross platform, free email service provider. With the help of some add-on user can also get access to store their personal info such as contacts, calendar, task, briefcase etc. in it. In the year 2012, Mozilla Foundation decided to suspend further manufacturing of Thunderbird as continuous efforts towards its features results fruitless. Now it doesn't welcome new users but only maintains old users account. It became very costly to manage database in Mozilla Thunderbird therefore users start switching database from Thunderbird to many other platforms. In this blog we will provide you all the solution available to move Thunderbird profile to hard drive as well as Cloud Server. To know how to copy emails from Mozilla Thunderbird to PDF, PST and Office 365, keep reading this blog till end.
Benefits of Keeping Files in PDF
PDF documents can be secured by password.
PDF files are portable in nature and can be managed easily.
Documents in PDF format can be easily shared via internet.
Accessible or open in all Devices such as mobile, laptop, tablet etc.
Acceptable as proof in almost all sector of economy.
Why to Maintain Database in MS Outlook
MS Outlook provide Search option to quickly search mails without any delay.
Red exclamation mark to mark important mails.
Simple and attractive graphical interface.
Provide high security than Mozilla Thunderbird.
Provide large storage space to manage all emails, contacts, calendar, tasks etc.
Attributes of exporting Thunderbird data to Office 365
Mailbox of Office 365 can be accessed anytime and from anywhere.
Cloud Servers are highly secured.
Office 365 centralises whole company's data at single place.
Provide huge storage as compare to desktop based email application.
Methods to Copy Emails from Mozilla Thunderbird Mails Efficiently
Manual Method

Move Mozilla Thunderbird mails to PDF format
Migrate emails from Mozilla Thunderbird to PST
Export Thunderbird mail folders to Office 365

Professional way to copy emails from Mozilla Thunderbird to PST, PDF & Office 365
Move Mozilla Thunderbird Mails to PDF Format
Step 1: Open Mozilla Thunderbird in your Windows Operating System
Step 2: Now go to File menu and select the option "Save Selected Messages".
Step 3: The arrow button shows list of several file formats. Choose Save as PDF (Adobe) from the listing.
Step 4: Next choose the location in which you want to save the resultant PDF file in local system.
Step 5: Finally Thunderbird successfully saves converted PDF mails in your selected destination location.
Migrate Emails from Mozilla Thunderbird to PST
Step 1: Run Mozilla Thunderbird in your PC and open the desirable mailbox.
Step 2: Select emails which you want to migrate in PST or use shortcut key Ctrl + A to select entire mailbox.
Step 3: Next choose the suitable folder to store all selected Thunderbird mails and then click on "Select Folder" option.
Step 4: Next launch MS Outlook in your system and create a new folder in it.
Step 5: You can either use drag & drop method or import saved Thunderbird mails into MS Outlook interface.
Step 6: Once all the mails start showing in MS Outlook, go to "File" menu.
Step 7: Select "Open & Export" >> then Import/Export option.
Step 8: Choose "Export to a File" and then press "Next".
Step 9: In the next step again choose "Outlook Data File" and press "Next" again.
Step 10: Now choose the mail folder which contains Thunderbird mails that you want to migrate in PST.
Step 11: Finally click on "Finish" button to get the Thunderbird files as PST.
Export Thunderbird Mail Folders to Office 365
Note: For exporting Thunderbird mail folders to Office 365 via this method, you have to download "Microsoft Azure AZCopy Tool". So download the tool in your system then follow below mentioned steps one by one.
Step 1: Share Outlook PST folder over the network.
Step 2: Install Microsoft Azure Storage Tools – You have downloaded earlier from Microsoft site.
Step 3: Run the tool and get the unique URL and key for loading.
Step 4: Next use azcopy.exe to upload the PST files.
Step 5: Now to create mapping file, use Microsoft's recommended format.
Step 6: At last export PST files to Office 365.
Professional Way to Copy Emails from Mozilla Thunderbird to PDF, PST & Office 365
Thunderbird Converter is an amazing third party solution that solely enough to get solution of how to copy emails from Mozilla Thunderbird to PDF, PST & office 365. It is one solution for your multiple problems. You don't need to go through different methods to copy emails from Mozilla Thunderbird to different platforms. It is an advance solution which is designed to run on all Windows machine having Windows version 10, 8, 7, 8.1, Vista, XP, etc. You don't need to worry about security of your credential as the software does not save any of the credential in its database and cache. To move all your emails identical to multiple formats use advance Thunderbird Converter.
How to Copy Emails from Mozilla Thunderbird to Multiple Formats Automatically?
Follow the below mentioned simple steps to move multiple Thunderbird emails to PDF, PST and Office 365 in few minutes: –
Automatic Way to Move Thunderbird Mail Folders to PDF
Step 1: Download Thunderbird to PDF Converter in your System.
Step 2: Load Thunderbird files in software by clicking on File Mode and Folder Mode.
Step 3: Select output type as PDF to move your emails in PDF. After selecting output option, fill other required places i.e. Destination path, advance filters and then click on Export Button.
Step 4: Conversion process will be completed in few minutes. In the end a excel docs opens with complete backup summary. Click on Save report option to save the backup report in CSV format.
Migrate Thunderbird Email Files to Outlook PST Automatically
Step 1: Install Thunderbird to PST Converter and launch it in your PC.
Step 2: Click on File mode and Folder mode to load Thunderbird mails in the software.
Step 3: Choose Outlook PST from the list of "Select Email Source" and then fill other required places i.e. saving location, advance filters and then press Export button.
Step 4: Once the migration process is completed, click on Ok button to finish the process. To save the migration report in CSV Format click on Save Report option.
Professional Way to Export Thunderbird Mails to Office 365
Step 1: Download and run Thunderbird to Office 365 Converter in your Windows Operating System.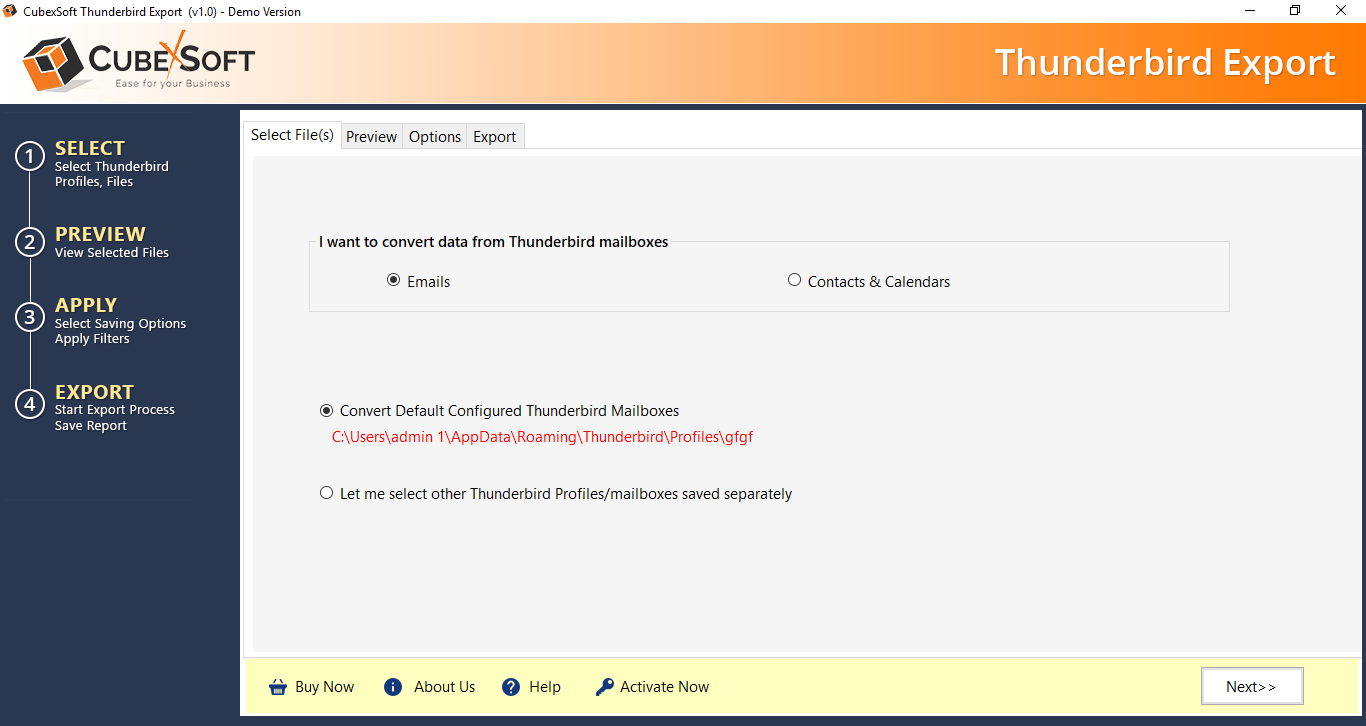 Step 2: Choose either File mode or Folder mode to upload Thunderbird mailbox in the software.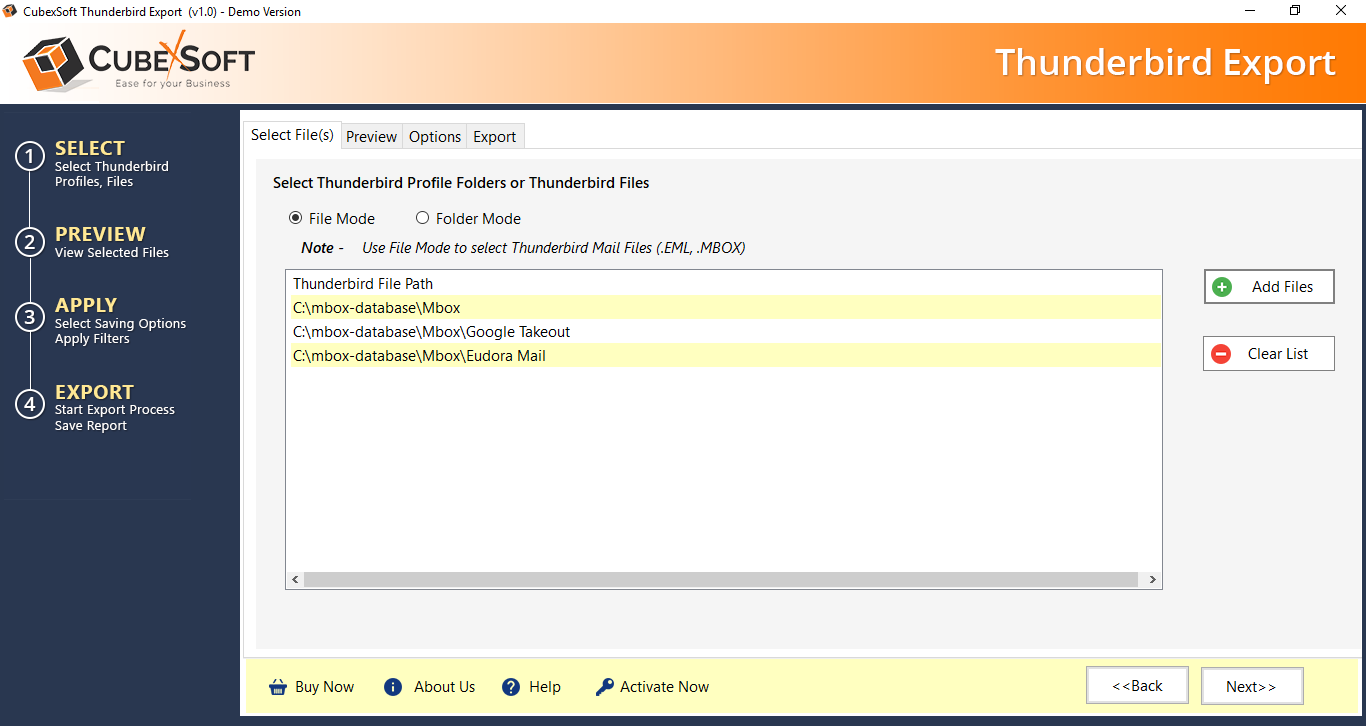 Step 3: Next select Office 365 as output option and then enter login details of Office 365 admin account. After choosing output option, filter the export process by applying advance filter. Press Export button to start the conversion process.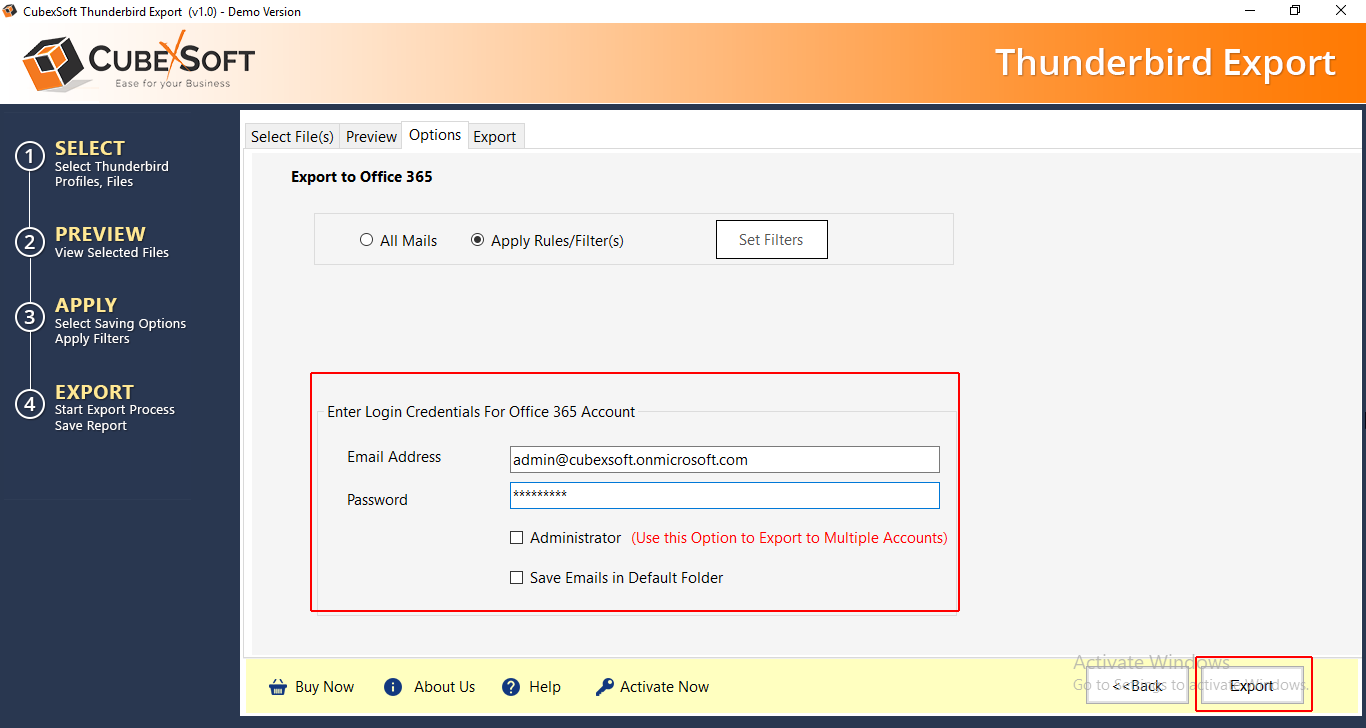 Step 4: In the end of conversion, a pop-up Windows open with a message "Conversion Completed Successfully". Click on Save report option to save the backup report in CSV file format.
Reasons to Choose Professional Method Instead of Manual Method
Advance Filtering Option: Thunderbird Converter is a marvellous tool that support to move only selective mails to Outlook, PDF, Office 365 and other file formats. The Tool offers advance filters such as date, to, from, subject etc. so that user can export only selective Thunderbird emails to desirable file formats.
Support Selective Migration: The Tool supports selective migration which is necessary feature for all those user who doesn't want to export whole Thunderbird mail profile. They can choose each mail folder separately according to their requirement.
Windows Supported Tool: Thunderbird Converter is accessible to all Windows Operating System. Users can copy Thunderbird mail folder to PST, PDF and Office 365 on all Windows version such as 10, 8, 7, 8.1, Windows Vista, Windows XP etc.
Simple to Use: The advance Thunderbird conversion utility is designed in such a way that it can be used by any naive user without proper experience. It is not mandatory to have expertise in technical field to operate this software which is must follow condition in Manual method.
Option to Save Attachments: When you select PDF format in which you want to transfer Thunderbird email then it offers you various options for saving attachments in PDF file format.
PST Split: When you select PST as option, Thunderbird Converter provide option to split big size PST files into fragments.
Multiple File Naming Option: Thunderbird Converter also offer multiple file naming combination so that user can save the resultant files according to sender address, date or receiver address in local System.
Independent Utility: Thunderbird Converter is an independent utility that does not need any other application to depend upon to perform Thunderbird mail migration to Outlook PST, PDF, Office 365.
Maintains Email Attributes: The advance Thunderbird Utility support to move all emails to any file format in original mail formatting. It doesn't change single properties and also move Thunderbird mail folders in exact hierarchy as it is before.
Conclusion
In this Blog we try to solve multiple users problem who are frequently asking how to copy emails from Mozilla Thunderbird to PST, PDF and Office 365. Here we had discussed both the manual way and professional way to migrate Thunderbird profile folder. If the quantity of database is small and the data contain less important information then Manual Method is also good for you. But if you want to move large quantity database which contain crucial information then we suggest you to opt professional way. Thunderbird Converter is the expert recommended tool to migrate Thunderbird data to multiple formats. Don't just believe my word, try the demo version of Thunderbird Converter before buying the license version. The demo version move up to 20 mails from each selected folder to selected file format Free of Cost.